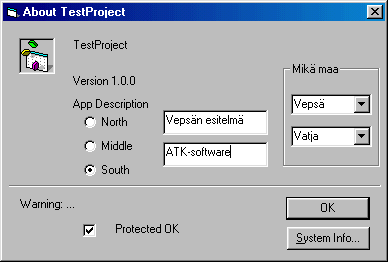 Since about half a year we're working hard
on creation a set of Vepsian software.
It's supposed to be a series of learning, teaching, educational, geographical and amusing computer programs. Along with donating used computers for Vepsian schools we carry out software installation and personnel training. With our software that is designed in most cases especially for and on basis of a concrete village children and adults are able to learn or brush up their Vepsian or Finnish, they can make virtual trips around Vepsia or play ancient folk games interactively.
In this way we're aiming to raise the pride of national identity of Vepsians by demonstrating that the threatened Vepsian language as a minority tongue can be developed enough to enable even controlling computer systems on it and communication between people via computer.