"Hm, a Society for Vepsians' sake..
..for our sake?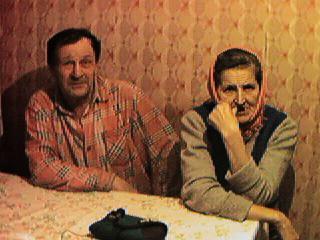 ---


of the St.Petersburg Vepsian Society©






International meeting in the given up beautiful village of Sarjärv in the Middle Vepsia:
Local Vepsians and Ingrian representative discussing with Markku Särelä (Finnland) the prospects on founding a Vepsian society in Russia to compensate the Carelian cultural Society, proved as ineffective.

Introducing the projects of the Rules of the Vepsian Society to be founded.

Before registration of the Rules by state authorities in St.Petersburg, the Vepsian population was made acquaited with them to ensure they reflect real needs and are accepted by the Vepsians living in their remote taiga settlements.

Mr. Nikolai Petrov, the chief administrator of a Vepsian downmost community, while reading the Rules.

Simultaneously there were held large consultations with related organisations in Finland and other Western countries to gain support for the newly born Vepsian Society, which should act as a subject of law of the Russian Federation.
Much more informal and vividly than in Stockholm and Helsinki numerous Vepsian families were met to collect rural peoples' opinions and point of views on the place to register the Society to be able to cover all the population.

Everybody spoke in favour of the city of St.Petersburg, which was finally chosen.
We were also happy to get support from the Russian municipalities in the key towns around Vepsia (here the chief administrator of Tihvin welcoming Tarmo).
Very many Russian officials were eager to cooperate for sake of revitalization of the Vepsian nation, formerly unknown to them .
A few years later...

One of the current meetings at the Board of the St Petersburg Vepsian Society, which are regularly held to consider new aiding or development programs or to greet new local groups of Vepsians joining us as our collective members.
© by Vepsian Society 2000, All rights reserved